We are pleased to announce that Toranomon BAR Shinkai has been featured in Whisky Magazine in the UK.
1. What is Whisky Magazine in the UK?
Whisky Magazine, the UK's premier whisky magazine, is the world's leading whisky magazine and the organizer of the World Whisky Awards and Icons of Whisky, the most prestigious whisky competitions in the world. It is truly the world's premier whisky think tank.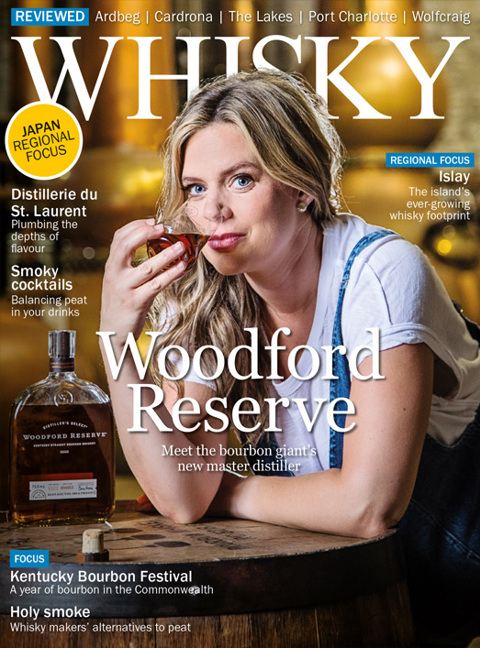 2. "Issue 193 – 28 July, 2023" published in Japanese Focus
"Toranomon BAR Shinkai" was featured in the Japanese Focus section of Whisky Magazine in Issue 193 – July 28, 2023 (Issue 193 – July 28, 2023) as a recommended BAR to enjoy Japanese whiskey.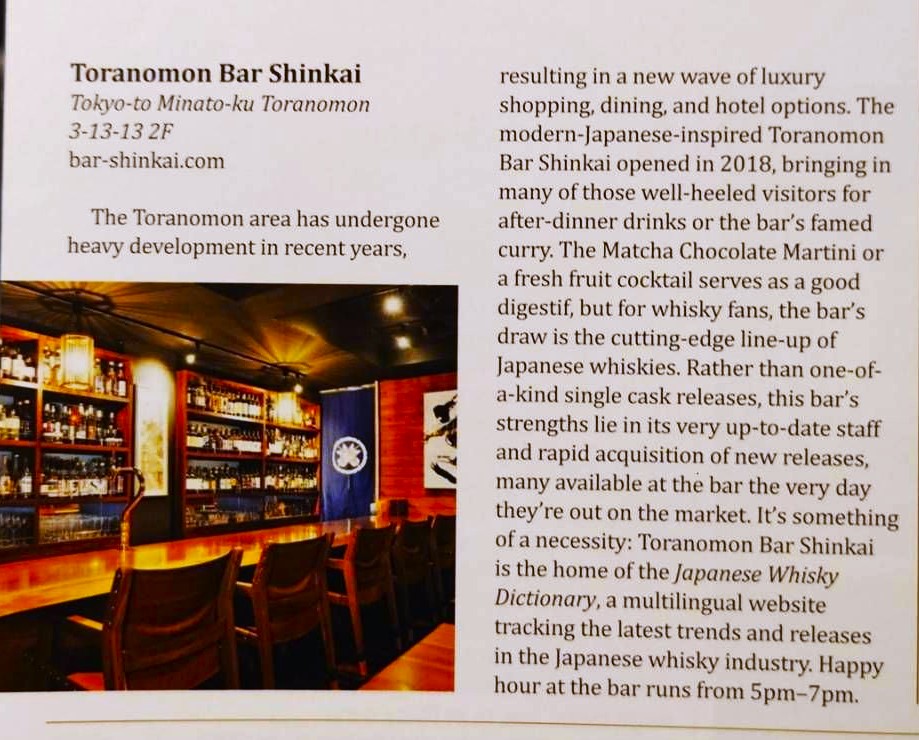 Below is the text of the article.
The Toranomon area has undergone heavy development in recent years, resulting in a new wave of luxury shopping, dining, and hotel options.

The modern-Japanese-inspired "Toranomon Bar Shinkai" opened in 2018, bringing in many of those well-heeled visitors for after-dinner drinks or the bar's famed curry.

The Matcha Chocolate Martini or a fresh fruit cocktail serves as a good digestif, but for whisky fans, the bar's draw is the cutting-edge line-up of Japanese whiskies.

Rather than one-of-a-kind single cask releases, this bar's strengths lie in its very up-to-date staff and rapid acquisition of new releases, many available at the bar the very day they're out on the market.

It's something of a necessity: "Toranomon Bar Shinkai" is the home of the Japanese Whisky Dictionary, a multilingual website tracking the latest trends and releases in the Japanese whisky industry.

Happy hour at the bar runs from 5pm-7pm.
BAR SHINKAI is a bar focusing on Japanese alcoholic beverages based on the concept of Japanese modernism. In particular, we focus on our selection of Japanese whisky.
We also operate "Japanese Whisky Dictionary", an information website specialized in Japanese whisky, by the team of bartenders at BAR Shinkai.
The site provides the latest news on Japanese whisky, release information, distillery information, whiskey reviews, and various other information not only in Japan but also worldwide in multiple languages.
3. other stores listed
In this issue of Whisky Magazine, we are introduced as well as 6 other recommended bars in Tokyo.
Aloha Whisky (Nishi-Ikebukuro)
Bar Shinozaki (Funabashi)
Bar Kage (Ginza)
Japanese Malt Whisky Sakura (Marunouchi)
Tokyo Whisky Library (Minami Aoyama)
Bar Shinjuku Whisky Salon (Shinjuku)
All BARs are famous and great BARs, so it would be interesting for Japanese whiskey lovers to visit one of them.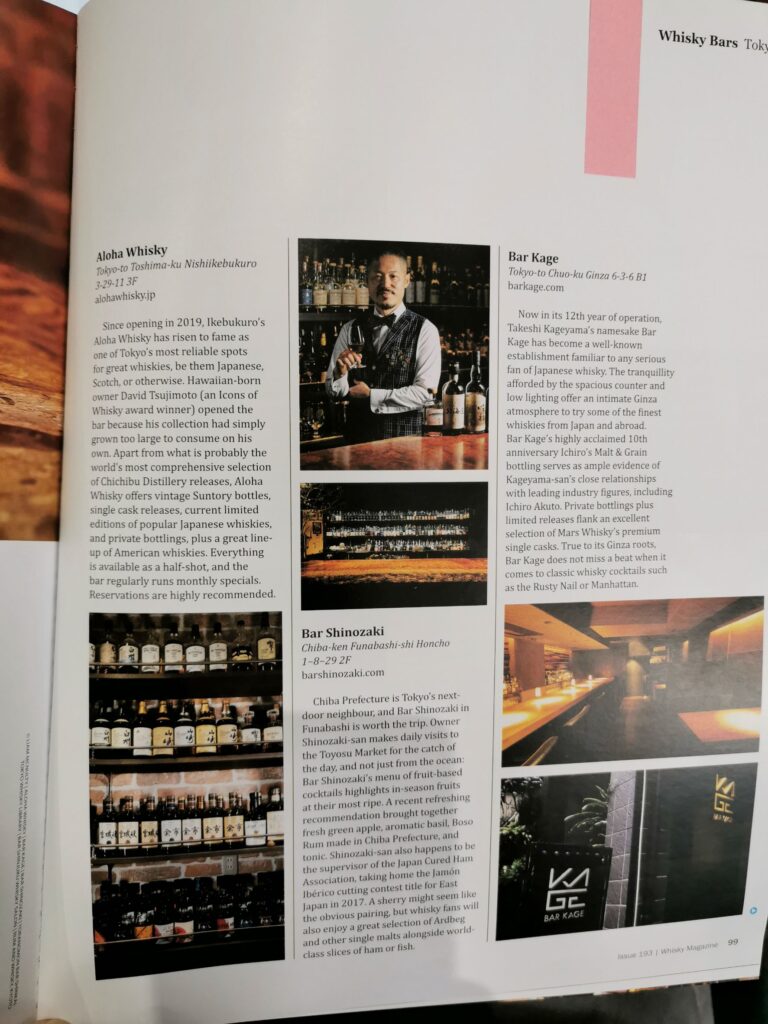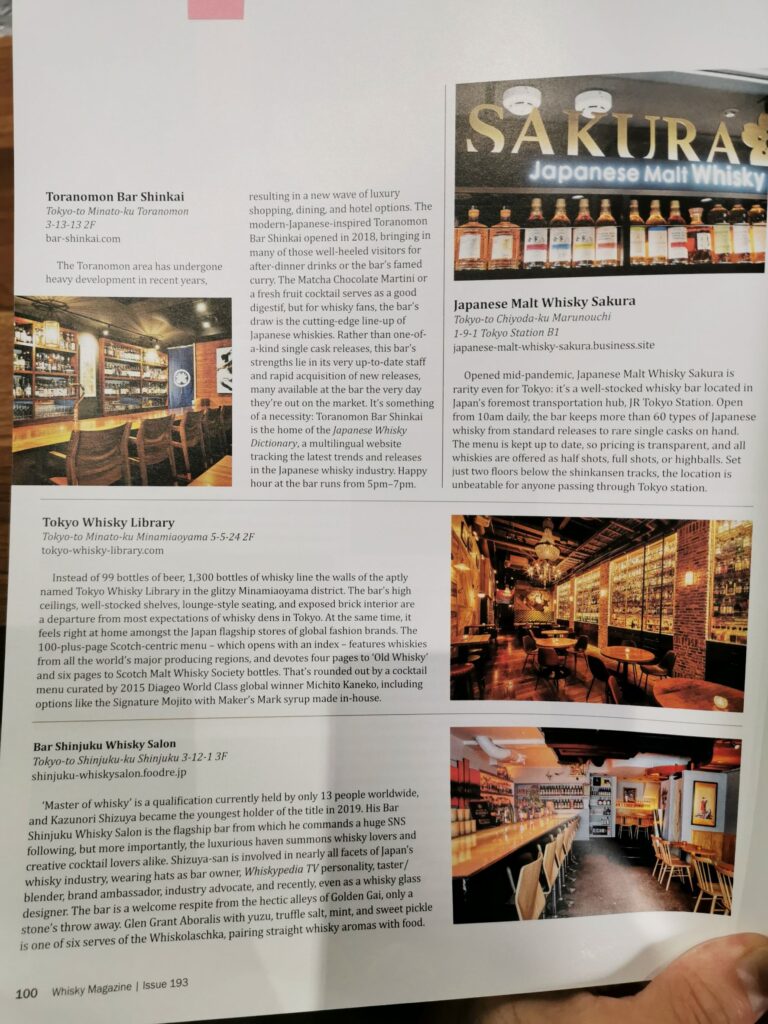 4. the Japanese whiskey list at BAR Shinkai
BAR Shinkai offers a wide range of Japanese whiskeys, from major Japanese whiskeys such as Suntory and Nikka to craft Japanese whiskeys from emerging distilleries such as Ichiro's Malt, Akkeshi and Kanosuke.
We look forward to seeing you at our store.